By Teeka Tiwari, editor, Palm Beach Daily
"You sound like a broken record, Tiwari. Where are all the profits you promised me?"
The early 1990s was a tough time for a young stockbroker just starting out.
We had just come off a decade of epic stock performance, and everyone was convinced the good times were over. Then, along came the recession of '90–'91, confirming everyone's fears. Stock prices and sentiment got crushed lower.
Stock prices improved from there… And then 1993 hit. From '93–'95, stocks just went sideways. It was a boring broad market, but if you were in tech, you were getting killed.
From '93–'95, stocks like Microsoft dropped 25% and stayed in the same trading range for two years. Oracle dropped 40% and also stayed range bound, too. It was a bloodbath for tech investors… and I was neck deep in tech stocks.
I was getting my lunch eaten. Hence, the angry phone call with my client calling me a broken record.
I remember getting those calls and responding, "Yes, I know I've been saying the same thing for two years. Yes, I know I've been telling you, 'Don't sell your Oracle stock. Don't sell your Microsoft stock. Hold onto your positions.'"
But after a certain amount of time, the same message can ring hollow when you're losing money.
Clients were thinking, "This is taking too long. I don't want to wait. These prices aren't reflecting what this guy is telling me is going to happen."
---
— RECOMMENDED —
Soon, you will need to shred your credit card
A major upheaval is in the works. And, soon, you'll need to replace your cards with brand new ones
Powered by a hot new technology the World Economic Forum projects will grow 295,762% over the next seven years.
Teeka Tiwari, America's #1 investor based on audited results, just released a video to reveal the single best way to play this coming change
---
What hurt the most was when all my clients lost faith in me and my vision. I begged them to be patient.
I told them two things would boost tech stocks higher:
First, interest rates were going down. And that would be positive for all stocks.
And second, I explained how we were on the cusp of an explosion in adoption of technology.
My clients who stuck with me – those who looked at the long-term picture – would be up 6,376% on Microsoft and 7,509% on Oracle today, had they held onto their shares. If you'd put $5,000 into each position then, it would be worth a combined $704,250 today.
Thirty years ago, it was hard for my clients to believe tech would dominate their daily lives. They couldn't imagine a computer on every desk or phone in everyone's hands.
Here we are, 30 years later, and I'm seeing the same story playing out in the crypto space.
Instead of getting angry phone calls, I've been getting exasperated emails that are almost word-for-word what I heard 30 years ago.
At the risk of sounding like a broken record (again), I'm going to show you why you must continue to be patient.
---
— RECOMMENDED —
The 5G Master Key – The Biggest Stock Market Story For 2020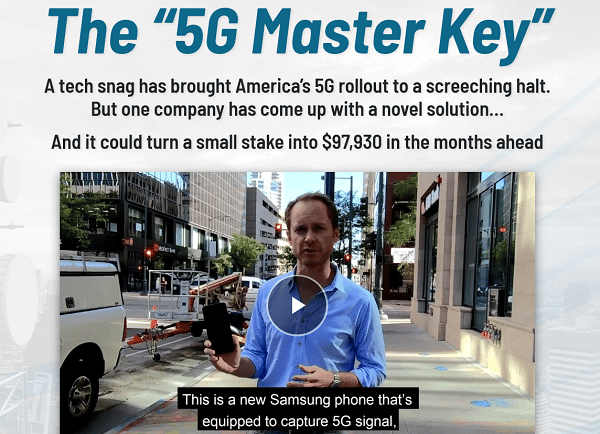 The 5G Master Key Presentation – Check out this research briefing now
---
Why You Shouldn't Bail on Crypto
Recently, I was in Davos, Switzerland, during the World Economic Forum.
The annual conference boasts nearly 3,000 attendees. They represent some of the world's top business, political, and intellectual names.
The most enlightening stories I heard came from some of the earliest adopters of crypto… folks who bought in back in 2011.
During the 2013 crypto crash, their altcoins dropped 80–90%. And they made the mistake of either selling them too early… or losing their private keys and not realizing how valuable their coins would be later on.
So when the 2016–17 crypto bull market rolled around, those coins that were virtually worthless in 2013 would've made them literally hundreds of millions of dollars.
I don't want you to experience that sense of regret. That's why I continue to pound the same message on crypto: Stay rational. Stay patient.
---
— RECOMMENDED —
Judge Pirro's Latest Interview Is Going VIRAL
One of the top news anchors in America just went on-camera to expose a huge story. When word spreads about what she's uncovered — it could trigger an equally huge move in the stock market.
If you haven't seen her interview… which details a sector of the market that could soar 37x in the months ahead, click this link to watch it now.
---
Staying on Message
While in Davos, I also got to meet a gentleman who runs a multibillion-dollar fund for a family office in Asia.
This was a recurring theme I saw there: A lot of the big investors coming into crypto at this point are actually family offices. And these private offices control huge pools of capital.
Globally, they have hundreds of billions of dollars under management. And they're very active in the crypto market. They're starting to put hundreds of millions of dollars into crypto, and we're starting to see that show up in prices.
Just take a look at bitcoin (that's their favorite trading vehicle). It's already up nearly 30% this year – handily beating every major asset class in the world.
And most importantly, we're finally starting to see the altcoins outpace bitcoin. That means this bull market in crypto is broadening just like I said it would.
I expected this to happen in October, but instead it happened in January. I can live with being three months off. The bottom line is the trend in these assets is UP. Way, way up.
Just like tech stocks in the early 1990s, we're on the cusp of mass adoption of crypto assets and the blockchain technology that powers this new asset class.
All the pieces are falling into place exactly as our models have suggested they would… which means 2020 is going to be incredible.
So I'm going to give you the message I've been giving you for the past two years: Be rational. And be patient.
Let time do the heavy lifting for us. Let us rely on Wall Street's greed as it shepherds hundreds of millions of new buyers into crypto.
Let us rely on the bitcoin halving – what I call "the phenomenon" – that's going to radically increase crypto prices.
And as we start seeing those explosive moves in crypto again, we'll be right there, just ripping profits out of this market like it's 2017 all over again.
---
— RECOMMENDED —
Master Crypto Course Now Available
Investment legend Teeka Tiwari has nailed numerous crypto recommendations over the past few years. Now, he has decided to give away his comprehensive 14-part crypto training course to anyone who wants to claim it.
---