By Greg Wilson, analyst, Palm Beach Daily
So far in 2019, bitcoin is up 182%.
Meanwhile, the rest of the cryptocurrency market is up just 58%.
These other crypto projects are called altcoins. And when they rally together, it's called alt season.
Now, a lot of people are asking, "When will altcoins catch up to bitcoin?"
It's a good question—because when altcoins rally, they can create life-changing gains.
You see, as crypto investors rotate from bitcoin to altcoins, these coins can rise multiples higher. Gains of 100%, 500%, and even 1,000% or more are there for the taking.
So today, I'll show you how alt season is rapidly approaching—and how you can position yourself for maximum profits.
But first…
---
— RECOMMENDED —
>> Ready To Try Leasehold Rewards Program? Click Here Now <<
---
When Will Altcoins Catch Up?
Right now, it's important to understand the price action we're seeing is perfectly normal.
In fact, here's what Daily editor Teeka Tiwari wrote on July 6:
Bitcoin has outperformed the altcoin market since the start of the year.

So investors fear their other coins will get left in the dust. Some folks have even asked me whether they should sell all their altcoins and go all-in on bitcoin. […]

Every time crypto emerges from a brutal bear market, bitcoin always rallies first. On average, it outperforms for about six months. After that, the altcoin market catches up.
And that's what we saw during the beginning of 2016's bull run…
As you can see, bitcoin led the rally. But altcoins eventually caught up and even outperformed bitcoin.
We saw a similar scenario play out in the beginning of 2017, too…
Again, bitcoin led the market before altcoins pulled away and outperformed.
So we know altcoins can surpass bitcoin during alt season. But how do we know now is the right time?
---
— RECOMMENDED —
Most Traders Fall Victim to Careless Mistakes.
Learn How To Avoid These Sins Like the Plague!
---
We're Getting Closer
In the crypto space, "bitcoin dominance" compares bitcoin's market cap to the overall crypto market cap.
For example, let's say the entire crypto market is at $10 and bitcoin's is at $6. That means bitcoin dominance is 60%.
Now, the chart below shows the bitcoin dominance level over the past two years. As you can see, we're reaching extreme levels…
The last time we saw levels this extreme was the fourth quarter of 2017. Altcoins went on to rally over 250% the following month. Meanwhile, bitcoin was down 8%.
---
— RECOMMENDED —
Get Out of Cash Now
Former hedge fund manager with a long track record of accurate predictions says a huge shift is coming towards the U.S. stock market in as little as 6 months that will determine who gets wealthy in America and who gets left behind.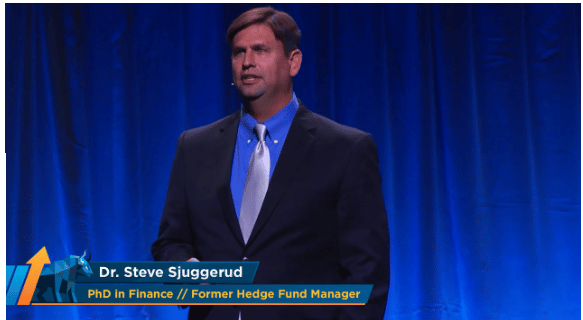 ---
Follow the Money
With bitcoin dominance reaching extreme levels, it's a good sign alt season is nearing.
But this metric alone isn't enough. We also want to see the start of a new altcoin investment cycle—which is exactly what we're seeing now.
Grayscale Investments is the world's largest digital currency asset manager and part of the Digital Currency Group. And it recently released its second-quarter investment report.
The numbers are impressive…
Grayscale launched its first digital currency investment products in 2018. By mid-2018, its assets under management (AUM) stood at roughly $250 million. Just over a year later, AUM now sits at $2.7 billion.
This growth of nearly 1,000% is significant. But where that money is going is also interesting…
During the first quarter of 2019, 99% of inflows went to bitcoin. Only 1% flowed into altcoins.
But a dramatic shift is happening. In the second quarter, only 76% of inflows went to bitcoin. Altcoins soaked up the rest.
That's over $20 million flowing into altcoins. And it's a trend we expect to continue…
Others Are Taking Notice
We're not the only ones talking about alt season, either. Notable crypto community influencers are, too.
Fundstrat is a boutique asset manager for institutional clients. It was one of the first to recommend cryptos to its clients. And cofounder Tom Lee is an influential figure in the crypto space.
You can regularly see him on CNBC and Bloomberg. And when asked about alt season on Twitter, he simply replied, "There will be an alt season."
Now, Chris Burniske is another influential crypto investor. He's a partner at Placeholder, a venture capital firm that invests in crypto assets.
He's also on top of the alt season cycle—which means his clients are, too…
To finish Burniske's thought: They'll move even more than bitcoin. So you'll see even bigger gains than bitcoin's during a crypto rally.
It's Not Too Late
In a bull market, altcoins tend to rally after bitcoin. And with bitcoin dominance at extreme levels and the crypto community taking notice, alt season is likely near.
We're only at the very beginning of this new bull market. With so much more money going into crypto than ever before, the rally in front of us will be so much larger than anything we've ever seen.
The profits we'll see from altcoins as this money comes into crypto will be unfathomable. And remember, you don't need to bet the farm. Even a small stake is enough for the potential of life-changing gains.