By Greg Wilson, analyst, Palm Beach Daily
There wasn't a single Lambo outside…
The registration line didn't snake outside the building…
And I couldn't find a single crypto hippie dressed in indie garb.
I was in Miami for The North American Bitcoin Conference (TNABC). And those observations were my first impression.
At seven years old, TNABC is the longest-running bitcoin conference in the world. And this was my fourth year in a row attending.
As I walked in, the first person I met told me, "Not quite like two years ago."
I couldn't agree more… Gone were the fancy cars and big crowds. There wasn't even a single initial coin offering (ICO) pitch.
I'd estimate the hype to be down 95% from two years ago. But that's a good thing.
As TNABC founder Moe Levin put it, "That makes me super optimistic. Because this is when the real work gets done."
Without the hype of the past, many worry crypto is dying – or even worse, already dead. But I can assure you crypto is here to stay. The industry is continuing to grow and innovate.
And today, I'll share some of the most exciting innovations I learned from TNABC 2020…
---
— RECOMMENDED —
Master Crypto Course Now Available
Investment legend Teeka Tiwari has nailed numerous crypto recommendations over the past few years. Now, he has decided to give away his comprehensive 14-part crypto training course to anyone who wants to claim it.
---
Making Crypto Accessible to Everyone
One of my favorite innovations is the Ballet crypto wallet. Created by Bobby Lee, it's an easy-to-use hardware wallet that makes storing cryptos simple.
For those who are unfamiliar with him, Lee has a long history in the crypto space…
He started mining bitcoin in 2011. He also founded BTCC, China's first crypto exchange. (At one point, it was the largest bitcoin exchange in the world.) And his brother, Charlie, is the founder of Litecoin.
Now, the Ballet wallet looks like a credit or debit card. But it's made with durable stainless steel.
What makes Ballet special? For one, it requires no setup. There's no need to register, give personal information, or understand two-factor authentication – all things necessary to buy crypto today.
Further, the wallet isn't electronic. So you never have to worry about compatibility issues or upgrading software.
And managing your coins is easy. You just download the Ballet app and scan the QR code on your Ballet wallet. That's it. Right now, Ballet supports over 50 coins.
So the Ballet wallet is a physical bearer asset, just like cash. And it's probably the easiest way to transfer crypto to someone via an offline process.
In short, it's designed for the mass market. And it'll help increase global adoption…
---
— RECOMMENDED —
The 5G Master Key – The Biggest Stock Market Story For 2020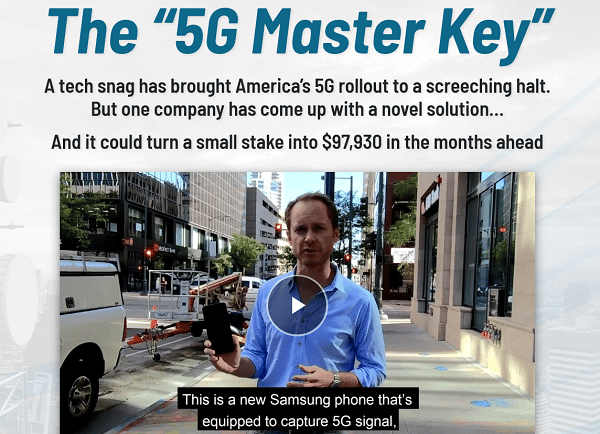 The 5G Master Key Presentation – Check out this research briefing now
---
Solving Regulatory Uncertainty
Another interesting development came from Allan Wayne Smith, the head of FinTech Bermuda…
Strategically located between the U.S. and Europe, Bermuda is looking to become a major destination for crypto businesses. And what you may not know is, the insurance and reinsurance sector is the largest part of Bermuda's international business.
It's what's called reciprocal jurisdiction in both the U.S. and European Union (EU). Without getting into the weeds, that just means Bermuda-based insurers can sell to the U.S. and EU. Add in low taxes, and Bermuda has turned itself into one of the world's biggest insurance hubs.
That's given Bermuda experience, credibility, and an excellent reputation. And Smith says it wants to leverage that to reinvent itself as a major hub for crypto projects.
Led by the Bermuda Monetary Authority, the country has made tremendous progress in the last few months by providing clear regulatory framework for digital assets. Whether you want to incorporate a crypto company, raise money through an ICO, or custody digital assets… it's all possible in Bermuda.
What's cool is, this is turning the whole country – with a population of roughly 71,750 – into an innovation sandbox.
Last October, the Bermuda government started accepting USD Coin (USDC) payments for taxes, fees, and other government services. And now, it's going to open that up to all U.S. dollar-backed digital currencies… and encourage the entire population to participate.
Bermuda is aiming to drive the adoption of stablecoins, rather than create its own digital fiat currency.
---
— RECOMMENDED —
Judge Pirro's Latest Interview Is Going VIRAL
One of the top news anchors in America just went on-camera to expose a huge story. When word spreads about what she's uncovered — it could trigger an equally huge move in the stock market.
If you haven't seen her interview… which details a sector of the market that could soar 37x in the months ahead, click this link to watch it now.
---
Finding New Ways to Do Business
Another cool innovation is tokenized income-share agreements (TISAs).
While the income-sharing concept isn't new, tokenizing it is. Josh Lawler of the Zuber Lawler law firm is spearheading the initiative. Although he's a lawyer by trade, he's also the head of the firm's Emerging Technologies group and a self-described futurist.
As Josh explained, TISAs are easy to sell and trade. So they can flourish in a liquid trading market. And through self-executing smart contracts, much of the regulatory and disclosure burden may be automated.
What's more, it's already happening today… Just weeks ago, NBA star Spencer Dinwiddie tokenized his three-year, $34 million contract extension with the Brooklyn Nets.
By tokenizing his contract, Dinwiddie will get a smaller, lump-sum payment up front. And token holders will receive a monthly base interest of 4.95% – plus other perks.
Dinwiddie's agreement was only open to accredited investors. But I wouldn't be surprised to see the general public be able to invest in their favorite sports stars via tokens in the future.
And it's all going to be done using the blockchain and smart contracts.
<
---
— RECOMMENDED —
Soon, you will need to shred your credit card
A major upheaval is in the works. And, soon, you'll need to replace your cards with brand new ones
Powered by a hot new technology the World Economic Forum projects will grow 295,762% over the next seven years.
Teeka Tiwari, America's #1 investor based on audited results, just released a video to reveal the single best way to play this coming change
---
Innovation Remains Strong
Yes, it's true that the hype from 2017's crypto rally has died.
But don't make the mistake of thinking crypto is dead. In fact, it's just the opposite…
What TNABC 2020 taught me is, the space remains filled with some of the smartest people trying to solve some of the world's most pressing problems today.
No one is leaving the industry. Instead, they're doubling down on the work and continuing to build.
And the work from today will set the future of tomorrow.