By Teeka Tiwari, editor, Palm Beach Daily
For the last five years, I've felt like a lone voice in the wilderness…
Over that time, I've been predicting a day would come when Wall Street awakens to the value of crypto assets. Not just bitcoin… but all crypto assets.
And today, we're on the verge of widespread acceptance.
Despite its recent pullback, bitcoin briefly hit an all-time intraday high of over $20,000 yesterday… And I wouldn't be surprised if it breaks through again and moves higher from there.
These recent moves are sparking a surge in the price of altcoins (all coins aside from bitcoin). And some of these smaller coins are really starting to move now… For instance, ether (ETH) is up nearly 60% in less than a month… and Ripple (XRP) has tripled since its July lows.
The good news is: There's still time to get in. But the window is closing.
Here's why…
---
— RECOMMENDED —
Here's the Name to Eric and Louis' #1 Hypergrowth Stock Pick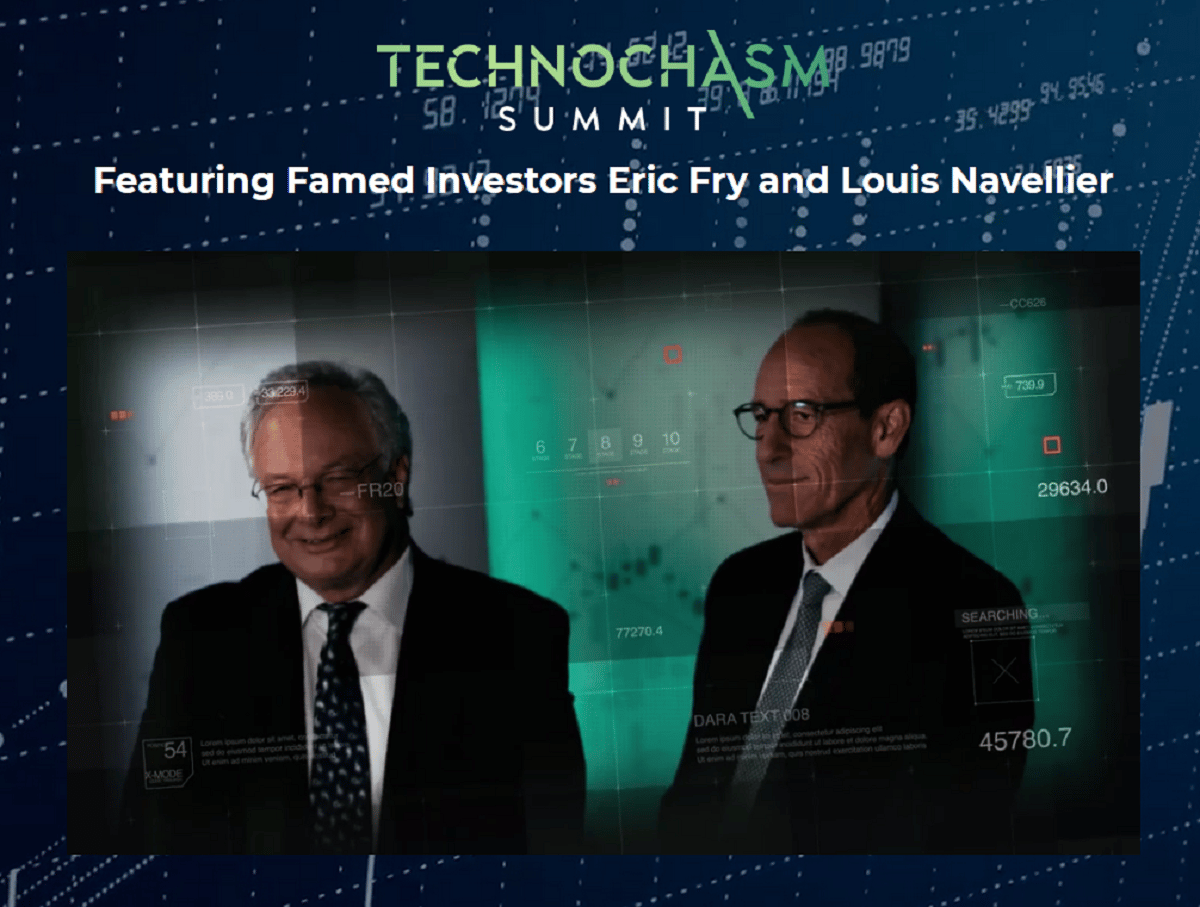 Eric Fry and Louis Navellier just revealed how a small group of stocks could make you $100,000 or more over the next 12 months…
Here's the name and ticker symbol to one of those stocks.
---
For years, I've said the overarching narrative about crypto is "adoption." Going from a small market with a small number of users… to a huge market with a huge number of users.
It's the same story I saw unveiling in 2003 when I started buying Apple for my brokerage clients.
I got into Apple for one reason and one reason only: It had a great product, the iPod. And the iPod was going to go from a small market of Mac computer users… to a huge market by becoming compatible with all personal computers.
URGENT: These 4 Cryptos Are Screaming Buys
The bet was really easy: The iPod was the best device of its kind in the world… but only a very small number of people could use it. I had read in Apple's 10Q report they'd be making a PC-compatible version. To my mind, that meant it would be a good bet Apple would sell a whole lot more iPods. So, I had my brokerage clients buy Apple stock.
Today, Apple is the largest U.S. company by market cap at $2 trillion. And if you had invested just $1,000 when I recommended shares in 2003… your shares would be worth roughly $465,350 today.
I'm making the same bet with bitcoin and crypto in general…
---
— RECOMMENDED —
Have You Heard About the New Bitcoin Interest Account That Pays Up To 6%?
Bitcoin is on a tear.
It has risen nearly 275% this year…
And soon, it could reach record highs.
Recently, Teeka Tiwari has uncovered a company that is willing to pay you interest in the form of bitcoin…
At rates up to 6%!
That's 120 times what you would get with a traditional savings account right now.
---
FOMO Will Kick Into Overdrive in 2021
All along, I've said the people who buy and trade bitcoin are a tiny subsector compared to about 500 million global stock and bond investors.
The bet I've been making with bitcoin is that traditional financial institutions will embrace it as an asset. And not because they're big fans of bitcoin… But because they're fans of the fees they can generate from bitcoin.
I call it Wall Street greed.
PayPal is a perfect example of this. The payment platform recently started offering bitcoin trading for its 345 million customers in early November.
A roundtrip buy-and-sell order will incur 6% in fees, plus a "hidden" fee called the "spread." The spread is the difference between the bid price and the offer prices.
This is an insane commission to pay for any asset. A financial firm charging 6% roundtrip commissions on stocks would face regulatory scrutiny and customer rebellion.
Those fees are fueling PayPal's insatiable appetite for bitcoin.
Buffett Dumps $800M Of Apple, Buys This Instead!
According to crypto fund manager Pantera Capital, PayPal is chewing up 70% of the available bitcoin every day. That's insane. About 900 bitcoin are mined per day… and the company is taking 70% of them.
Square, another company that offers bitcoin trading to its 22 million customers, is taking the other 30%. So all the 900 new bitcoins that come out every day are already bought.
Of course, higher prices beget higher prices. Family offices see bitcoin's price going up… Trading firms see bitcoin's price going up… Hedge funds see bitcoin's price going up.
And they're thinking… we've got to get a piece of this.
This means anyone who wants bitcoin will have to buy from people who are willing to sell. Well, guess what? Once you cross $20,000, anybody who wanted to sell has pretty much sold.
So what I believe will happen is once bitcoin passes $20,000, you're going to have an epic, parabolic, insane run. And that run is going to ignite a massive boom in the altcoins.
So we're about to enter the FOMO (fear of missing out) stage when things go crazy.
This is the stage where you can make 200x, 300x, even 1,000x your money. You'll see crypto prices go bananas – absolutely nuts. 2021 is going to be insane.
And all you have to do to participate is take action now, then just sit still and hold.
---
— RECOMMENDED —
Breaking News: Is This $4 Company About to Sign a Billion-Dollar Deal With Tesla?
We've got some breaking news about Tesla…
One angel investor with deep ties to the mining industry…
Believes Tesla could be on the verge of a multibillion-dollar deal…
With a tiny $4 company.
And you could pocket a fortune if it happens
---
We'll Still See a Lot of Volatility
Now, you have to remember, on a day-to-day basis, anything can happen in crypto.
Bitcoin can double or go down 30%. You're going to be on an emotional roller coaster because you're going to see your account go up and down. It's going to boom higher, come down, and then boom higher, and then come down, and then boom again.
That's what 2021 will look like. And if you've never been through it, it can be a little destabilizing.
Those of you who have never been through a crypto bull market, buckle up because this is nothing.
What we have coming is going to put 2017 to shame… And 2017 was nuts. We saw coins go from 12 cents to $200… $7 to $1,400… and 25 cents all the way up to $6. I mean, just crazy moves.
Friends, I want you to realize we're going to have more volatility. But it'll be upside volatility. That means after every sell-off, you will see the market recover to take new highs.
Everyone is going to be talking about crypto. It's going to be the topic of every single conversation over the holidays. Everybody's going to wonder, is it too late? Is there still time? Can we still make money?
As of today, the answer to all those questions is yes.
Remember, the entire market cap of bitcoin is $359 billion. That's a tiny fraction of the $9 trillion in the gold market… or $98 trillion in the stock market… or the $10 trillion in the real estate market.
So this is a message for everyone to stay grounded because prices are going to go nuts. That means I need you to be rational. I need you to use good position sizing and risk management.
And for those of you who have not gotten in, I urge you to act today. Because once bitcoin blows past its old highs, it's not coming back down. And it'll take the entire crypto space higher with it.
There's still time to make life-changing gains in crypto. But if you delay, you may regret it for the rest of your life.
---
— RECOMMENDED —
Is this Elon Musk's Biggest Idea Yet?
Could this be Elon Musk's biggest breakthrough yet?
After making billions disrupting the automotive and space industries, Elon might have just made his biggest bet yet…
And this time, you have the chance to get in on the ground-floor!
Click here now for this surprising story
---
Altcoins won't be the only winners coming out of crypto's mass adoption… Companies like Amazon, Google, and Facebook have already placed their bets on another crypto breakthrough.
It's a tech that's poised to transform manufacturing, data storage, and security forever. And as crypto's mass adoption gains momentum, I believe it will become the No. 1 investment of the decade… but you need to act now.