By Teeka Tiwari, editor, Palm Beach Daily
On March 31, I made what's probably the second-biggest call of my life…
I said another cryptocurrency would surpass bitcoin as the most valuable in the world.
That prediction probably stunned a lot of people. (More on that in a moment.)
I've been a bitcoin bull since March 2016, when I recommended it at around $428. Today, bitcoin is trading at $58,200 – a 13,498% gain in just five years. That's enough to turn every $1,000 into $135,981.
At the time it was a bold call… But I'm no stranger to making bold calls…
In October 2014, I told a sold-out audience that the ongoing bull market would continue for at least a decade or more. At the time, the S&P 500 was at 2,000. And we were already five years into the bull market. Everyone was skeptical.
But I stuck to my guns. And just recently, the S&P 500 hit a record high of 4,129 on April 9 – just as I'd predicted.
---
— RECOMMENDED —
Millionaire's Big Prediction From Living Room Couch
Teeka Tiwari – America's No. 1 Investor – just made an outrageous prediction.
Recorded live from his living room couch…
He blasts Congress, reveals nasty truths about America…
And reveals one technology set to radically change our nation.
Already, 400,000-plus viewers have checked it out.
WARNING: This video may make you furious.
---
And in September 2019, I stood in front of an audience of high-net-worth individuals… and recommended they buy a basket of five tech and biotech stocks: Illumina, Nvidia, Square, Teradyne, and Tesla.
I told the crowd these transformational technology platforms would produce rising profits and declining consumer costs. And that would lead to huge productivity gains.
Since then, the basket of companies is up an average of 437% – and Tesla alone has rocketed 1,420%.
I don't tell you this to boast… But to show you that my subscribers have made life-changing gains because of my alternative ideas.…
Tech Expert: "My #1 Play for the Great Reset"
Longtime readers know I've helped change their financial lives by delivering non-consensus research. That just means I recommend ideas other people are terrified of because they're afraid of looking stupid.
While there is great comfort to be had by going with the crowd… there is very little profit. But I'm more afraid of missing out on a life-changing opportunity than I am of looking stupid.
I'll take that risk all day because that's how I was able to predict the record bull run in the stock market… five tech stocks that averaged peak gains of 545% in less than a year… and of course, bitcoin's epic run from a $6 billion asset to a $1 trillion asset.
Now, my research is pointing to another crypto I believe will become the world's most valuable software development platform.
It's called Ethereum. And its native currency is ether (ETH).
---
— RECOMMENDED —
"Penny Trade" Pays Warren Buffett as Much as an Extraordinary 4,429%?
"Penny Trades" are cheap and explosive…
Warren Buffett grabbed 46 million of them for 1¢ a pop.
Right now, he's up as much as a rare 4,429% on this trade.
But "Penny Trades" aren't reserved for billionaires like Buffett.
Thanks to SEC loophole 30.52, you can play them in your brokerage account.
One of these "Penny Trades" shot up 183% in one day…
Penny Trades can pay far MORE than stocks…
Our readers just saw a 19¢ trade shoot up as much as a rare 5,100%…
Here's the No. 1 "Penny Trade" for RIGHT NOW
---
The World's Most Valuable Software Development Platform
I'm sure some of the 47,162 people who tuned into my webinar on March 31 were disappointed by my Ethereum recommendation.
They probably said to themselves, "Tiwari, this is the coin you're recommending? That's like telling me to buy Microsoft or Amazon."
But since I made that call, ETH has rallied as much as 20%. And in my opinion, it'll rise another 500% just this year.
Over the next decade, I believe Ethereum could surpass the value of Microsoft, Apple, Google and Facebook combined.
As I told you last week, the next stage of transformational software development will happen on the blockchain… not the traditional internet. And Ethereum is the world's most widely used blockchain development platform.
Just like Microsoft was the world's most popular PC development platform in the 1990s… And Google's Android and Apple's iOS are the most popular development mobile app development platforms today… Ethereum is – and will continue to be – the go-to platform for blockchain projects.
Man Who Picked Apple Under $2 Issues NEW Urgent Buy
I'm not the only one who thinks Ethereum will end up being the dominant blockchain development network.
Anthony Scaramucci, who runs the $1 billion SkyBridge Capital fund, calls bitcoin the "apex predator" in the crypto space. But he's even more bullish on Ethereum.
In a recent CNBC interview, he said, "the technology around Ethereum is going to make it a sticky cryptocurrency and a store of value and something people will transact with."
And billionaire investor Mark Cuban recently called Ethereum a "hotbed of continuous innovation." He even admitted to owning "a lot more Ethereum" than bitcoin.
Scaramucci and Cuban are brilliant guys. They didn't get rich through buying into hype. They saw big tech trends and jumped on them before the mainstream.
But I've been predicting Ethereum's rise since 2016… long before the big boys on Wall Street got into the game. At the time, it traded near $9. Today, it's trading around $2,060 – a 22,789% gain.
---
— RECOMMENDED —
Tech Expert: "S.A.V. Will Be Huge"
S.A.V. – that's Elon Musk's next big project that will shock the world.
And after months of research, this tech expert finally found the company that's behind this new project.
This is all part of a $30 trillion trend that's set to dominate this decade.
But hurry – all the big players are already getting in.
For example, Warren Buffett has already invested $15 billion in this trend… and said he's ready to invest $15 billion more.
There's no time to waste… click here now and get all the details
---
The Next Apex Predator
As mentioned, over the next decade, I believe Ethereum has the potential to grow into the world's most valuable software development platform.
It'll also be the backbone of another multitrillion-dollar trend I'm following called decentralized finance (DeFi).
Decentralized finance is disruptive because it removes the need for many of the "middlemen" who dominate our financial lives.
It's estimated traditional financial middlemen suck out 6% of global GDP value annually. That's $8.5 trillion per year in fees. It's a massive number.
Over the next decade, DeFi will radically change the way you bank… borrow and lend money… and receive loan approvals. (I've written extensively about DeFi here.)
In my view, two trends – DeFi and decentralized apps (called dApps) – will make Ethereum the most valuable software platform in history. Because when you eliminate the need for a third party or middleman, you can dramatically lower costs…
And when you dramatically lower costs, mass adoption becomes a done deal.
To my eyes, Ethereum is wildly undervalued. Even at over $2,000 and a $239 billion market cap… it's a bargain relative to its development trajectory.
That's why I believe it'll eventually overtake the combined value of Microsoft, Apple, Google, and Facebook.
I even think it has the potential to match bitcoin's current $1 trillion market cap before the end of the year… It's that big.
If you already own ETH, consider adding more to your portfolio (if appropriate). If you don't own it, buy some today… because it still has plenty of runway left.
And don't worry about volatility. I don't care if ETH drops 50% tomorrow, and neither should you. Focus on the long-term trend because if you can do that, I believe you'll look back on your decision to buy ETH as one of your best investment decisions of 2021.
Long story short: Ethereum is going much, much higher.
---
— RECOMMENDED —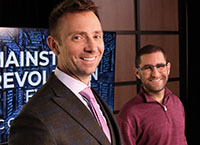 Where is bitcoin headed over the next few months?
Bitcoin is hitting record highs. Should you buy, sell, hold on for dear life? Matt McCall just gave the full details on where he believes the crypto markets are headed in a recent special presentation.
You can watch the replay here.
---
I firmly believe Ethereum will become the world's most valuable software development platform over the next decade… but that's not the only life-changing opportunity I see in crypto today.
Right now, another evolving crypto technology is on trend to create more than 800,000 new millionaires over the next three years…
At the same time, I estimate nearly 99% of Americans have no idea about the opportunity before them… or that they can potentially ride its coattails to fortune for as little as $10.
Click here for the full story on what I predict will be the biggest shift of wealth and power in modern history… and how you can be a part of it.