By Greg Wilson, analyst, Palm Beach Daily
It's the biggest crypto-related news of the year since Facebook announced its Libra coin…
Yet it hasn't been getting as much coverage.
In late October, Chinese President Xi Jinping called for his country to accelerate blockchain technology adoption. And a slew of bullish news followed…
China's Congress passed a cryptography law to provide clear guidelines and regulations. It goes into effect January 1.
The Cyberspace Administration of China announced over 500 projects have already registered with the Chinese government.
The vice chairman of the China Center for International Economic Exchanges said China's central bank is close to rolling out a digital currency.
And the Chinese National Development and Reform Commission scrapped its plans to eliminate the bitcoin mining industry (which had previously been a major threat in the nation).
Overall, it's huge news. Any uncertainty surrounding China and blockchain tech evaporated. And crypto markets rallied over 25% as a response.
Now, the crypto market has pulled back some since then. And the People's Bank of China (PBOC) came out and said it was cracking down on "illegally" operating crypto exchanges. We've seen this play run by the PBOC before.
Our advice: Don't sweat it. This is typical of China. For example, it made the same announcement about illegally operating crypto exchanges in September 2017 – and bitcoin.
What's important is that Chinese developments are a stark reminder that blockchain and cryptos are a worldwide phenomenon.
And today, I'll tell you why this news will not only be a catalyst to blockchain tech in China… but throughout the world as well – for months and years to come.
---
— RECOMMENDED —
Why Christmas could be fantastic this year
It could be a very, merry Christmas for you and your loved ones this year…
Here's why…
On Wednesday, December 11th, this Market Wizard and retired billion-dollar hedge fund manager will show you the secret he used to generate over $270 million in profit over an 8-year period…
You can use the same secret to generate over $200,000 this year (or more), according to this individual.
---
From Blockchain to Bitcoin
Here's what President Xi declared for China:
We must take blockchain as an important breakthrough for independent innovation of core technologies, clarify the main directions, increase investment, focus on a number of key technologies, and accelerate the development of blockchain and industrial innovation.
In short, this announcement gave the green light for nearly 1.4 billion people to use blockchain technology.
Now, you may be wondering how this will boost bitcoin. After all, Chinese state media tend to focus only on "blockchain," rather than "bitcoin" or "cryptocurrency."
But that's like a university building a new athletic facility… and then saying it'll only help the football team. Obviously, every athletic team will benefit.
Likewise, China's push into blockchain will benefit the whole industry, including bitcoin and other cryptos.
In fact, one of China's state-run news agencies, Xinhua, recently ran a front-page story hailing bitcoin as the first successful application of blockchain technology.
The bottom line is: Xi's endorsement elevates the status of blockchain, bitcoin, and cryptos as a whole. And the fact it did not ban bitcoin mining suggests that China values bitcoin.
This announcement virtually guarantees significant investment into the industry for years to come.
Su Zhu, CEO and CIO of Singaporean hedge fund Three Arrows Capital, said it best:
[More than] one billion people will see this news. Search volumes and web traffic will balloon. Parents will be urging kids to learn about crypto and blockchain.
And we're seeing these effects already…
---
— RECOMMENDED —
WARNING!!!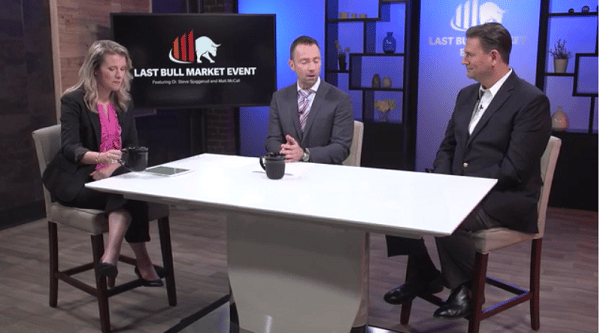 Here's how to prepare for the biggest stock market event of the decade.
Including the name and ticker of the best-performing stock of 2020.
---
Blockchain Takes Off in China
Just a day after Xi's announcement, "blockchain" was all over the headlines in People's Daily – China's largest newspaper and the official newspaper of the Central Committee of the Communist Party.
A few days later, the local government in Guangzhou announced a fund worth roughly $150 million for outstanding blockchain projects. (Guangzhou is the country's fourth most populous city behind Shanghai, Beijing, and Tianjin.) Other local Chinese governments will likely soon follow suit.
And according to the founder of crypto venture capital (VC) firm Primitive Ventures, Dovey Wan, major Chinese universities have started offering blockchain classes overnight.
VC investment is also starting to flow again. Following the 2018 Crypto Winter, 90% of blockchain-focused Chinese VC firms left the market. But now, with the government's endorsement, VCs are returning and deal flow is on the rise.
Plus, the Cyberspace Administration of China revealed some of the largest Chinese banks and tech companies are working with blockchain tech, too…
The Bank of China, China Construction Bank, and the Industrial and Commercial Bank of China have nearly $10 trillion in total assets. And Baidu, Alibaba, and Tencent are all advancing multiple blockchain projects. Combined, these companies generate over $115 billion in annual revenues.
We'll see the benefits of these initiatives in the months and years to come.
More importantly, we think it'll light a fire under other countries in the race to blockchain supremacy…
---
— RECOMMENDED —
2 Nobel Prize Economists Predicted This Once-in-a-Generation Wealth Shift…
A terrifying new trend is creating thousands of new millionaires (Barron's estimates 20,000 to 200,000 so far) while at the same time destroying the financial future for many others…
---
A Little Competition Never Hurts
Again, blockchain and cryptos aren't exclusive to China. They're part of a worldwide phenomenon.
As Mark Zuckerberg said in his testimony before the House Committee on Financial Services:
While we debate these issues, the rest of the world isn't waiting [to innovate]. China is moving quickly to launch similar ideas in the coming months… If America doesn't innovate, our financial leadership is not guaranteed.
Now, he said this before Xi's announcement. But China's just called "game on." And its move will force the rest of the world to step up its blockchain and crypto use.
We think the U.S. and other countries will rise to the challenge. And the entire blockchain space, including cryptos, will benefit.
One simple way to play the trend is to make a small allocation to cryptos. If you're new to the space, we recommend you start with bitcoin.
But always remember, bitcoin is volatile. So don't bet the farm. You just need a tiny grubstake for the potential for life-changing gains.