By Teeka Tiwari, editor, Palm Beach Daily
There's an old rule in technical analysis… The wider the base, the bigger the breakout.
During my 15-year career on Wall Street, I used technical analysis to spot trading setups with explosive upside.
The last time I wrote about a technical setup like this was in 2016.
From June to November, bitcoin traded between $530 and $760. But I told my subscribers once it broke above $790, it'd be off to the races…
When I tell you that no one wanted to listen to me… no one wanted to listen to me.
But as you can see above, once bitcoin broke resistance at $790, it soon ran to $1,000. Within a year, it was headed to its all-time high of $20,000.
Here's why I'm telling you this…
---
— RECOMMENDED —
Stock Warning: 'It's Already Spreading'
He predicted the rise of gold in 2003, the top of the dot-com bubble in 2000, and the bottom of the Great Recession in 2009. Now, this former hedge-fund manager says a mania will hit the U.S. stock market any day now… one that'll take most people by surprise.
Don't get left behind – get the details here.
---
In 2016, bitcoin hit a rough patch for months… But all of a sudden, we had these explosive moves higher in 2017.
We're seeing similar sideways action right now. But there are multiple catalysts that didn't exist in 2016 that do now. And they'll take bitcoin higher in the coming months…
Moving Sideways
Take a look at the current bitcoin chart below… The action here is similar to what we saw in 2016…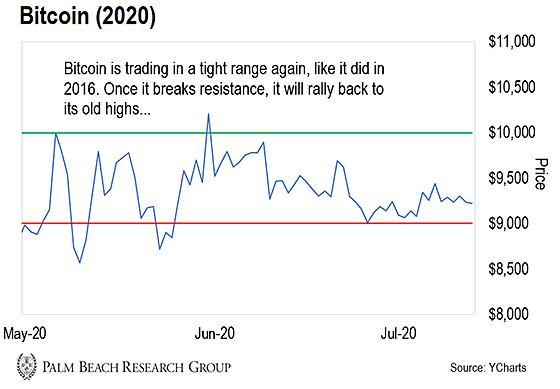 Since the May 2020 halving, bitcoin has generally traded between $9,000 and $10,000. (The halving is when the incoming supply of bitcoin is cut in half.)
From a technical perspective, when bitcoin breaks resistance… it'll head back to $12,000–16,000 right away.
After a brief period of consolidation, it'll march to $20,000, probably sell off back to $16,000… and from there, it will head up into new all-time highs.

Access Dark Market Insights – 24 Hour Trades exploding as Much as 1,360%+
This is the exact path bitcoin took back in 2016.
After the July 2016 halving, bitcoin went on to rally 2,963%. If that happens again, bitcoin will rally to over $280,000.
Now, I'm not saying we'll see bitcoin rally that much right away. What I am saying is bitcoin has more catalysts behind it now than it did in 2016…
---
— RECOMMENDED —
Breaking News: Is This $4 Company About to Sign a Billion-Dollar Deal With Tesla?
We've got some breaking news about Tesla…
One angel investor with deep ties to the mining industry…
Believes Tesla could be on the verge of a multibillion-dollar deal…
With a tiny $4 company.
And you could pocket a fortune if it happens
---
More Catalysts Ahead
For the past three years, I've told you to bet on Wall Street greed.
My narrative is financial institutions will turn to crypto as a new source of fee-generated revenue. And they're building the on-ramps to do that.
On Tuesday, crypto custodian Kingdom Trust announced it's offering customers bitcoin cold storage from Fidelity Digital Assets.
This is huge news…
Fidelity is the fourth-largest U.S. asset manager. It's mainly custodied crypto for institutional clients. But through Kingdom Trust, it'll offer services to retail clients.
And there's another source of demand for bitcoin: Millennials.
America's #1 Stock Picker Reveals Next 1,000% Winner (free)
This global younger generation is set to inherit about $68 trillion worth of their parents' wealth. In my opinion, a lot of that money is going to find its way into digital assets.
According to one survey, an overwhelming 88% of millennials say they want to own crypto as an investment. And studies show bitcoin is one of their favorite investments.
So we're seeing two mounting sources of demand for bitcoin… while, at the same time, incoming supply is being cut in half.
Prices have nowhere to go but up…
---
— RECOMMENDED —
You Could Make 843% in Your Sleep From 24-Hour Trades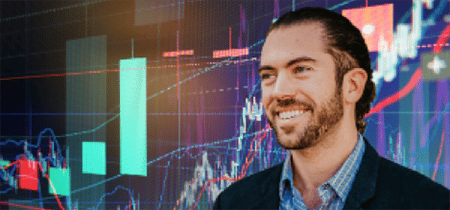 You could have massive overnight gains throughout this entire crisis.
"Blitz Tracker" shrinks your exposure by controlling your time spent in the market and regularly delivers powerful 24-hour gains.
Click HERE now to see how to join folks already making money during this market chaos
---
Look at the Big Picture
This year, I'm highly confident we'll see a major brokerage firm offer bitcoin trading to its tens of millions of retail customers. (The Fidelity-Kingdom Trust partnership is a step in this direction.)
As soon as that happens, every other major brokerage firm will fall in line. It's pure supply and demand. The story here couldn't be simpler.
So what I'm going to focus on is what I've always focused on when making large amounts of money: the big picture. If you can get the big picture right and position yourself for the big-picture move, that's all you need to do.
Every financial institution – from large central banks to small family offices – will hold some bitcoin in their portfolios. That is the future for this asset class.
On top of that, we'll see millions of millennials come into crypto. They've grown up with digital money. So it's a no-brainer for them.
I will tell you this now: You'll look back a few years from now, and it'll blow your mind how mainstream crypto trading will become.
So if you find yourself bored with bitcoin… or worried about its future… just remember, the wider the base, the bigger the breakout.
Because when bitcoin breaks out of its current trading range and goes back to $20,000… it will probably go to $70,000–80,000 on its next bull run. And bitcoin's run will spark a massive rally in the rest of the crypto market.
---
— RECOMMENDED —
The Wall Street Legend Who Picked Apple in 2003 and Bitcoin in 2016 – Shares #1 Pick for the 2020s
It's not 5G, artificial intelligence, or the internet of things.
The answer will surprise you. And, for those who take early action, it could lead to an eventual $1.6 million payout.
---
As I mentioned above, a breakout in bitcoin will spark a massive rally in the rest of the crypto market, too. And I believe that'll make crypto's underlying blockchain tech the best-performing investment idea of the decade.
Not only is it the backbone of bitcoin, it's also disrupting industries from finance to supply chains to health care.
In fact, I've put together a special presentation to pull back the curtain on this trend. I firmly believe it will be the No. 1 investment of the 2020s…