By Greg Wilson, analyst, Palm Beach Daily
Bitcoin is down about 22% over the last month. And technical analysts fear the price could drop even lower.
You see, the news has generally been negative recently:
The Securities and Exchange Commission rejected another proposed bitcoin exchange-traded fund (ETF).
The IRS issued complicated tax guidelines on hard forks and airdrops. The one thing tax experts can agree on is that the new rules are onerous.
And then there's Libra, Facebook's crypto project. Two U.S. senators recently sent a letter to the CEOs of Visa, Mastercard, and Stripe to express their concerns about the project. Many considered the letter a veiled threat. All three firms promptly dropped out of backing Libra.
In moments like these, you should dig past the headlines to look at the fundamentals. So today, I'll share what they're showing—and why it's still bullish for bitcoin…
---
— RECOMMENDED —
Like Trading Options? You're Missing Out On These Explosive Gains
We've identified a group of stocks that are so small… they don't offer options.
Yet they're some of the most explosive stocks on the market today – spiking 226%, 495%, even 1,000% or more – in a short amount of time.
On October 23rd, 36-year trader Jeff Clark is going to show you how to get in on these stocks right as they're breaking out.
---
Charting Bitcoin's Direction
Despite all of the negativity surrounding the crypto space, the fundamentals still look great. And the three charts below show why…
The first shows the number of wallet users on Blockchain.com, one of the most popular bitcoin wallet providers. As you can see, the numbers continue to grow…
The second chart shows the number of daily transactions on the bitcoin blockchain. And since last year's drop-off it's trending higher again, too:
The last of the three charts shows bitcoin's hash rate. It's considered a good indicator of the bitcoin network's overall health. And the higher the rate, the better the network is performing.
You can see below that bitcoin's hash rate continues to hit new all-time highs…
And these are just three metrics. We're also seeing:
A long-term trend of declining crypto volatility
Development in crypto custody
Improvements in liquidity
More developers working in crypto
Increasing amounts of capital investing in the space
Now, this doesn't mean we won't see more short-term selling pressure in bitcoin.
As Daily editor Teeka Tiwari said earlier this month, negative sentiment has caused some damage to bitcoin's price. So don't be surprised if it temporarily drops to the $7,000–7,500 level.
But in the long term, prices are going higher…
---
— RECOMMENDED —

---
Bitcoin's Future Is Bullish
As I wrote in Thursday's Daily, big money is already headed into the crypto space:
Auditing firm PricewaterhouseCoopers estimates global pension funds held $38.3 trillion in assets in 2016. And it expects that to swell to $64.6 trillion by 2025—a 69% increase.

While that's solid growth, PricewaterhouseCoopers expects alternative assets to grow even faster—from $10 trillion in 2016 to $21 trillion in 2025. That's 110% growth.

It represents a huge opportunity.

Let's be conservative and assume cryptos capture just 10% of the inflows into alternative assets. That's $1 trillion—about 360% greater than the current entire crypto market cap. (As I write, it stands at roughly $217 billion.)

And pension funds aren't the only ones looking for income from alternative assets. Insurance companies, sovereign wealth funds, and high-net worth individuals all face the same problem.

Now, PricewaterhouseCoopers estimates these groups hold another $109 trillion in assets. That's nearly three times more the amount held by pension funds.
---
— RECOMMENDED —
RELEASED: New Trump Video Could Save Him From Impeachment!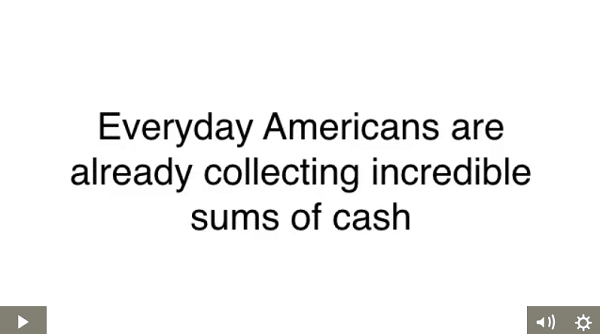 But if you consider yourself an American patriot, you should check this out..
Click here and learn how to claim your first "patriot" check
---
Teeka also pointed out that trading volume on the recently launched Bakkt platform is exploding—just as we expected.
Now, Bakkt is a subsidiary of the company that owns the New York Stock Exchange. It's a bitcoin trading platform for institutional investors. And its daily volume was up over 800% recently.
This is a good proxy for institutional money coming into bitcoin. And we're starting to see record amounts of capital flow into the platform—which will likely send bitcoin prices to new highs.
So if you're worried about the recent pullback, just think about this: Even though bitcoin is down about 22% over the last month, it's still up around 115% since January 1, making it one of the best-performing asset classes of 2019.
Just look past the negative headlines and focus on the fundamentals. And you'll see the long-term outlook for bitcoin is bright.
It's still not too late to buy bitcoin. But remember, you don't need to bet the farm. A small stake is all you need to make life-changing gains.