Bitcoin has smashed through the $20,000 mark… Why the rally is just getting started…
By Chris Lowe – The Daily Cut
Bitcoin $23,128
That's how much one bitcoin (BTC) trades for as I (Chris Lowe) type.
That's $3,039 more than its previous all-time high, set in December 2017.
Bitcoin is now up 221% for the year.
So if you're one of our readers who took our advice and bought some bitcoin, congratulations.
And if you still haven't picked up even some small exposure to this rally, as you'll see today, it's not too late.
We're still in the early innings of a rally that could take bitcoin to $60,000… and beyond.
We've been thumping the table for years on the opportunity in bitcoin
Colleague Teeka Tiwari first added bitcoin to the model portfolios at our Palm Beach Letter and Palm Beach Confidential advisories in April 2016.
At the time, one bitcoin traded for just $428.
Bitcoin is up 5,304% since Teeka's initial recommendation. That's enough to turn a $10,000 investment into more than half a million dollars.
Teeka isn't the only Legacy analyst who's bullish on bitcoin.
In November 2017, Jeff Brown recommended bitcoin to paid-up readers of our flagship tech-investing advisory, The Near Future Report.
And in June 2018, Nick Giambruno recommended bitcoin over at The Casey Report and Crisis Investing.
Based on their research, I've urged you to buy bitcoin 93 times since we created The Daily Cut in August 2018 as a premium e-letter for all paid-up Legacy Research subscribers.
---
— RECOMMENDED —
The firm that called the EXACT PEAK of the Dot-Com boom
has just issued another major prediction.
If you've got money invested in the market – and especially in popular tech stocks – this is critical information for the days ahead…
---
It hasn't been a straight shot higher
With so much bullish sentiment on the crypto right now… it's easy to forget how hated it was only nine months ago.
On March 16, bitcoin hit a 2020 low of $4,944.70, according to figures from CoinDesk. As recently as February 19, bitcoin was trading at more than $10,000.
That's a drop of more than 50% in less than one month.
But Teeka didn't lose the faith…
On March 10, he forecast in these pages that we were "on the doorstep of another crypto boom."
I hope you acted on this advice. Since its low for the year, bitcoin is up 463%.
And here's the crucial thing to understand: We're still at the beginning of a rally that will take bitcoin way higher.
Teeka calls it a "critical juncture" for crypto
It's one of the themes he touched on in the December issue of The Palm Beach Letter. Teeka…
History suggests we're now at a critical juncture for bitcoin, other cryptos, and the blockchain technology that underpins them.

Essentially, we're now moving from the early-adopter phase to the mass-adoption phase.
Remember, with breakthrough technologies, mass adoption is the biggest driver of prices.
That's why I'm telling you there's still plenty of upside ahead.
Today, just 15% of American adults own some form of crypto. The other 85% own no crypto. So there's still a lot of market share left for the taking…
---
— RECOMMENDED —
The Wall Street Legend Who Picked Apple in 2003 and Bitcoin in 2016 – Shares His #1 Pick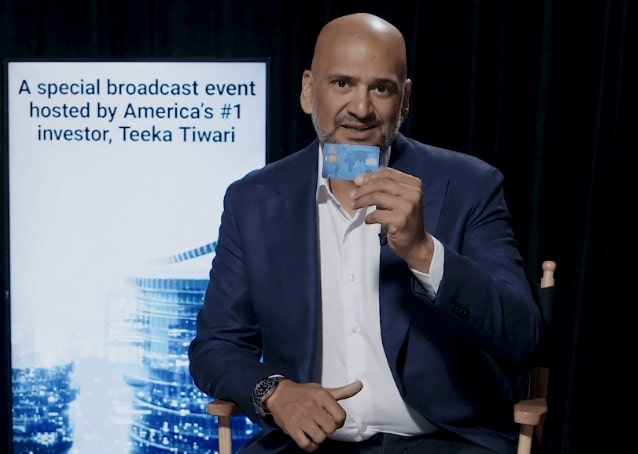 It's not 5G, artificial intelligence, or the internet of things.
The answer will surprise you. And, for those who take early action, it could lead to an eventual $1.6 million payout.
---
S-curve analysis backs this up…
The S-curve tracks how long it takes for folks to embrace a breakthrough technology. Think microwaves, cell phones, the internet… or bitcoin.
Take a look at this chart Teeka showed his readers. It's by way of crypto investment fund Off the Chain Capital.
The vertical axis represents the bitcoin adoption rate – how many people own some bitcoin, in other words. The horizontal axis represents time.
What you see is that the time it takes for 10% of the population to embrace a new technology is roughly the same as it takes to go from 10% adoption to 90% adoption. Teeka again…
If cryptos and the blockchain technology they're built on follow the same S-curve pattern, and I believe they will, we could see an exponential increase in adoption rates over the next decade. That means the gains we've seen thus far in crypto are only the beginning.

Past trends suggest the biggest gains are typically made right after the early-adopter phase ends… which is exactly where we are today.

Cryptos such as bitcoin are limited in supply. So you can imagine what will happen when the number of buyers explodes higher.
It's Economics 101. When demand outstrips new supply, prices go up. If demand outstrips supply by a lot… prices go up a lot.
---
— RECOMMENDED —
"Penny Trade" Pays Warren Buffett as Much as an Extraordinary 4,429%?
"Penny Trades" are cheap and explosive…
Warren Buffett grabbed 46 million of them for 1¢ a pop.
Right now, he's up as much as a rare 4,429% on this trade.
But "Penny Trades" aren't reserved for billionaires like Buffett.
Thanks to SEC loophole 30.52, you can play them in your brokerage account.
One of these "Penny Trades" shot up 183% in one day…
Penny Trades can pay far MORE than stocks…
Our readers just saw a 19¢ trade shoot up as much as a rare 5,100%…
Here's the No. 1 "Penny Trade" for RIGHT NOW
---
There has been no shortage of new buyers in 2020
It's been the year that big-money investors have warmed to bitcoin.
This has been a huge theme for Teeka all year. He said 2020 would be the year Wall Street greed propelled professional money managers to get on board with bitcoin.
Here are just a few examples he shared with our Palm Beach Research Group readers…
Several prominent hedge fund managers, including Paul Tudor Jones and Stanley Druckenmiller, have now invested in bitcoin.
Collectively, 15 publicly traded companies have put more than $1.2 billion in bitcoin on their balance sheets.
Grayscale, a leader in crypto asset management, raised more than six times as much money in the first three quarters of 2020 than it did in all of 2019.
A Fidelity report recently recommended allocating 5% of portfolios to bitcoin. And the firm has begun providing bitcoin custody for financial advisory firms.
That's on just the institutional side. Consumers are also gaining easier access to bitcoin.
---
— RECOMMENDED —
Millionaire's Big Prediction From Living Room Couch
Teeka Tiwari – America's No. 1 Investor – just made an outrageous prediction.
Recorded live from his living room couch…
He blasts Congress, reveals nasty truths about America…
And reveals one technology set to radically change our nation.
Already, 400,000-plus viewers have checked it out.
WARNING: This video may make you furious.
---
Take the big news out of PayPal
Online payments processor PayPal (PYPL) will allow its 346 million users to buy, hold, and sell crypto. The company will add crypto to its PayPal and Venmo apps next year.
PayPal joins rival payments processor Square (SQ) in allowing its users to access crypto. Square added bitcoin to its Cash App in 2018.
Even Visa (V) is getting in on the act. This year, we saw announcements of a bunch of bitcoin-related credit and debit cards that will work with Visa.
Coinbase, the largest U.S. crypto exchange, will offer a Visa credit card that allows folks to spend crypto in their Coinbase accounts.
And BlockFi, another crypto exchange, will offer a Visa card that gives 1.5% cash back in bitcoin on purchases.
Visa isn't shy about touting the benefits of crypto for its customers. This is from a blog post on the Visa website from July…
We believe that digital currencies have the potential to extend the value of digital payments to a greater number of people and places. As such, we want to help shape and support the role they play in the future of money.
With all this going on, it's easy to see why Teeka is so excited about bitcoin and other crypto assets in 2021.
If adoption drives prices… and the biggest mainstream payments networks are getting on board… along with the great and the good of Wall Street… next year promises to be a stellar one for bitcoin holders.
---
— RECOMMENDED —
Could a new high-powered retirement account, recently approved by the government, pay more than stocks?
What banks are paying regular people for their money today is laughable.
The average savings account in the United States pays just 0.05%.
And some big banks pay even less!
How can anyone retire on that?
Thankfully, there exists a new account that pays up to 8.6% interest
(That's 172 times the average savings account.)
And one man believes in this idea so much he has already invested $250,000 of his own money.
He wants to show you how you can get your savings goals back on track.
---
What to do about it
If you bought bitcoin on the recommendations from Teeka, Jeff, or Nick… congratulations.
It's one thing to subscribe to a newsletter. It's another to act on the recommendations it makes in its model portfolio.
If you're still on the sidelines, you've missed out on some big returns. But don't despair. As the S-curve chart shows, we're still in the early days of crypto adoption. And the rally in bitcoin is still in its early innings.
In October, Teeka predicted in these pages that mass adoption will take bitcoin to $60,000 sooner than most folks think.
And that's not the end point. Brian Estes, an analyst for Off the Chain Capital, the crypto fund who put that S-chart together, says it could hit $100,000 by the end of next year.
Tom Fitzpatrick, an analyst at Citibank, has a price target of $318,000 for this time next year.
And Scott Minerd, the chief investment officer for Guggenheim Investments, says his fundamental analysis values bitcoin at $400,000.
So if you haven't acted on our long-running campaign to spur you into action… now is the time to buy before prices go into the stratosphere.
Just remember to limit your investment to a reasonable amount. Bitcoin is still highly speculative. So it has roller-coaster-like volatility.
Teeka recommends an initial stake of $200 to $400 for smaller investors and $500 to $1,000 for larger investors.
In the mailbag: "I'm glad I put my trust in Teeka"
If you're not already following Teeka's research and ideas, you're missing out.
He's one of the world's most widely followed crypto investing experts.
And he was the first guy in our industry to focus a major financial newsletter, Palm Beach Confidential, solely on crypto.
As I mentioned up top, Teeka first recommended bitcoin in April 2016. Since then, it's up 5,304%.
But bitcoin isn't Teeka's top-performing open recommendation. That title goes to a decentralized platform called Neo (NEO). He added it to the Palm Beach Confidential model portfolio in February 2017.
Since then, it's up 14,124%.
Small wonder Teeka's readers flood our mailbags with praise. Here's just some of what they've sent in…
I'm new, and I must say, I've never seen anything like these gains. Most have doubled my small initial investments in less than a month. I'm so thankful and grateful for finding Teeka and Palm Beach Letter. My life will forever be changed for the better with the new information and knowledge I've gained.

– Minnie P.

Teeka, you are a real sincere man. You do things for the little guy from your heart. I am very fortunate to have signed up for a lifetime subscription when I did. You see, I did make some money, but I also got to know you over the years and recognize how genuinely you act for your subscribers.

Not many people like you in the world. Let our love and appreciation always come to you!

– Steven C.

Thank you for the great recommendations. My son is severely disabled, and money is always a little tight. Over the past few years, I've made some crypto purchases, and I'm thrilled with the results so far.

I really appreciate the reassuring notes you leave for us subscribers and the guidance you've provided. You've helped me get onto a path that will help me build a nest egg and make sure my son's financial future is secure. That's no small thing when it comes to disabilities. Again, thank you!

– Gregory R.

I just wanted to forward a very big thank you to Teeka for his exceptional guidance on cryptocurrencies. At the coin prices of today, my entire crypto holdings are up around 200% since March. We are obliterating the performance of traditional financial assets.

I'm glad I put my trust in Teeka, and I look forward to what is coming next! With the impact of COVID-19 and our lunatic central banks, this is truly a lifeline for me.

– Brendan V.

Just a short note to Teeka Tiwari… back in November of last year, I followed one of your crypto recommendations. You gave it away for free. I didn't spend a nickel. You said that if I would invest $500, it could lead to MUCH more. I invested $800. That $800 is now worth $6,975. Just a huge thank you. I guess I need to join your subscribers!

– Paul G.
Has Teeka's advice changed your life for the better, like it has for these readers?